We're making great progress preparing to move from Unit K6 to the much larger Unit F! Our landlord has very generously allowed us entry to the new space before our official move in date of 1st December so that we can clean it up and prepare it for our needs. We're keen to use the new space to express how open and welcoming the So Make It community are and to expand the range of activities that we can support, and so we've thought carefully about the layout of the new space.
Upon entering you'll be greeted by an clean and open space with clear desks and chairs. Immediately to your right will be a cozy social area with a few sofas, and a small library. To your left will be a kitchenette with an oven for baking or pizza, a fridge, microwave, sink and tea and coffee facilities (and as always we'll have snacks and cans/bottles of drinks available to). Just the other side of the social area will be a demo table with examples and pictures of what members of our community have made, and perhaps even one of our 3D printers on the go. And of course Alan the Dalek will be parked menacingly in a corner.
Here's how Unit F looked before we started – a big blank canvas:
We've cleaned the floor of oil patches and tire marks, cleaned down the walls and doors, and are well underway repainting the walls and windows, and degreased the rolling shutter and much more clean-up work. We've also removed some disconnected and unnecessary equipment from the walls such as piping, wires, bolts and rawlplugs to help make the space safer and more welcoming.
Construction of the partition wall which will separate the workshop ("dirty area") from the rest of the Makerspace ("clean area") is well under way – huge shout out to Embecosm for sponsoring this! We're hopeful that this partition will help keep the bulk of the space tidy and attractive whilst still allowing plenty of space in the workshop for woodwork, metalwork, and similar activities that tend to generate dust and mess.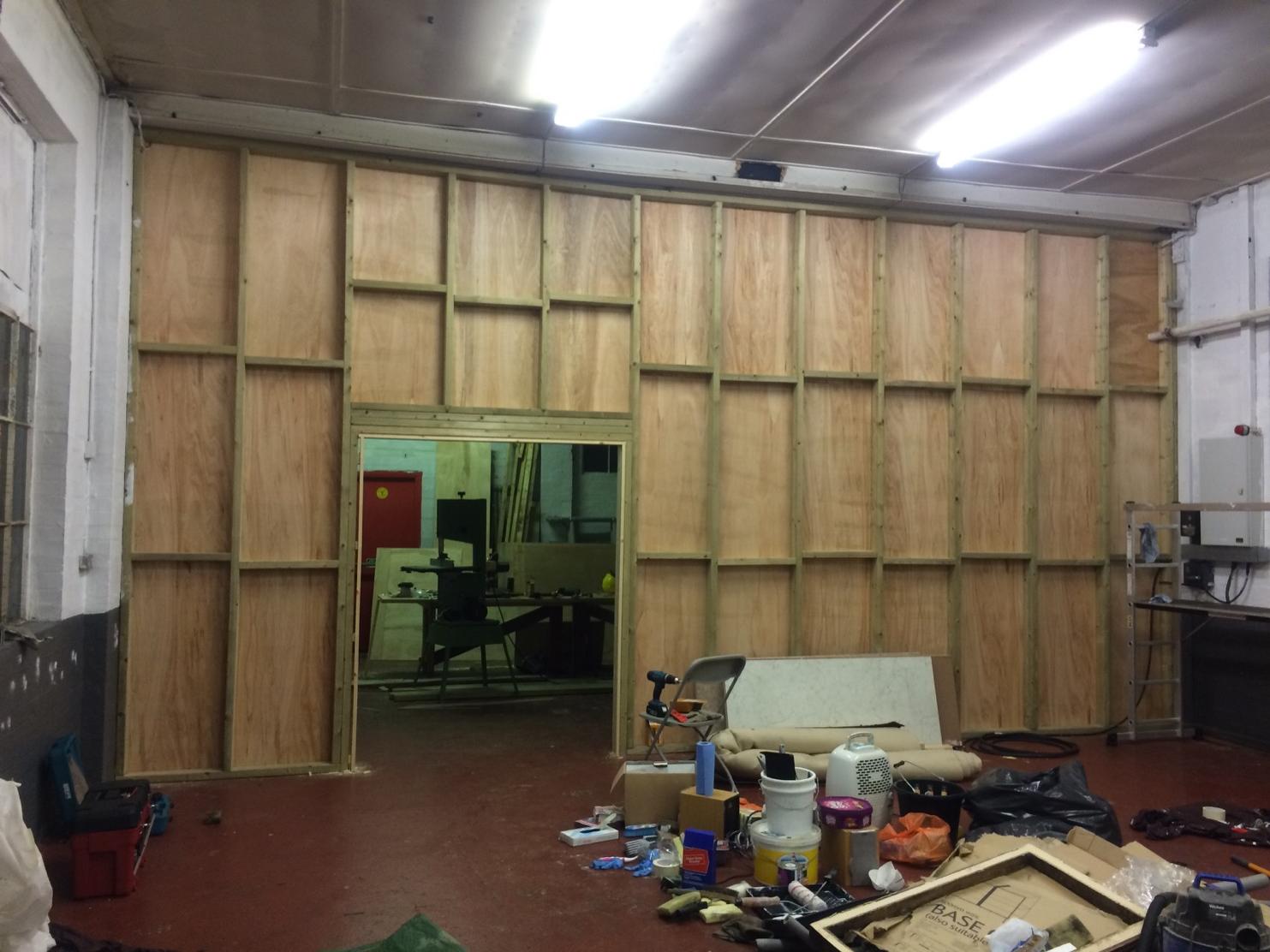 The partition wall will also serve as a projection screen and will host our sponsor wall. Thanks so much to everyone who's helped so far – all the man power, equipment and material donations have been very gratefully received. There's still plenty to do so please keep helping and we can really make So Make It 3.0 a fantastic space for all makers!